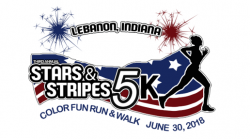 Thank you for joining us for the 3rd Annual Stars & Stripes Color Fun Run & Walk held in Lebanon. The Color Fun Run/Walk is an event to promote healthiness and happiness by bringing the community together. The run/walk is a five-kilometer event in which runners/walkers are doused from head to toe in different colors at the start of the race and throughout the race.
Only two rules apply: 1) Wear white (a white t-shirt will be provided) 2) Finish the race plastered in color. Bags of colors will be provided to all participants and volunteers will be throwing color on racers at stations strategically located along the race course. The color run/walk event uses all certified non-toxic and free of any heavy metals color packets. The bright colors are a combination of cornstarch, baking soda, and FD&C Dyes. The colors mostly wash out after the event however, as with anything dirty, the sooner you wash it the better. We suggest wearing items that you would not mind getting colorful.
All Proceeds from the run/walk will benefit the Lebanon High School Athletic Programs and will be used to help meet the needs of our student athletes and coaches.
ALL Children under the age of 15 must be accompanied by an adult during the race.
No pets allowed.