(Source: IBJ): A small chain of fast-casual restaurants in northern Illinois plans to expand into Indiana and open a location in Lebanon.
Rockford, Illinois-based Beef-A-Roo plans to open a 3,818-square-foot restaurant at 1360 State Road 32, according to a building permit filed with the city. A KFC restaurant previously operated at the address.
It's part of Beef-A-Roo's plans to grow in the next three to five years from an eight-restaurant regional chain in Illinois to about 50 restaurants in the Midwest and Southeast, the company said.
A Beef-A-Roo spokesperson confirmed the chain is planning a restaurant in Lebanon, but restaurant representatives did not respond to a request for further information about when the restaurant is expected to open and if other locations are planned in Indiana.
The chain currently has seven restaurants in the Rockford area and an eighth location northwest of Chicago in West Dundee, Illinois.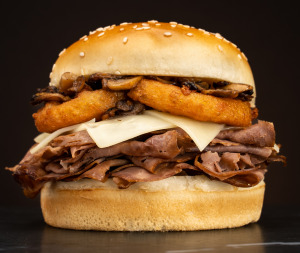 The restaurant's menu includes roast beef sandwiches, burgers, chicken sandwiches, fries, cheddar fries, onion rings, cheese curds, baked potatoes, milkshakes, salads, wraps, gluten-free options and vegetarian sandwiches.